Set up an automatic out-of-office or vacation reply in Gmail
Set up an auto-reply (auto-responder) when you are not available for a number of days.
Step-by-step Instructions
What are automatically reply to email?

Automatic reply emails are an automated email reply system that sends pre-written responses when a user receives an email. These replies are typically used to answer frequently asked questions or to send a confirmation email to the sender when you are unable to reply to the email immediately. Automatic reply emails can help you manage emails without manual intervention, while conveying information to the sender.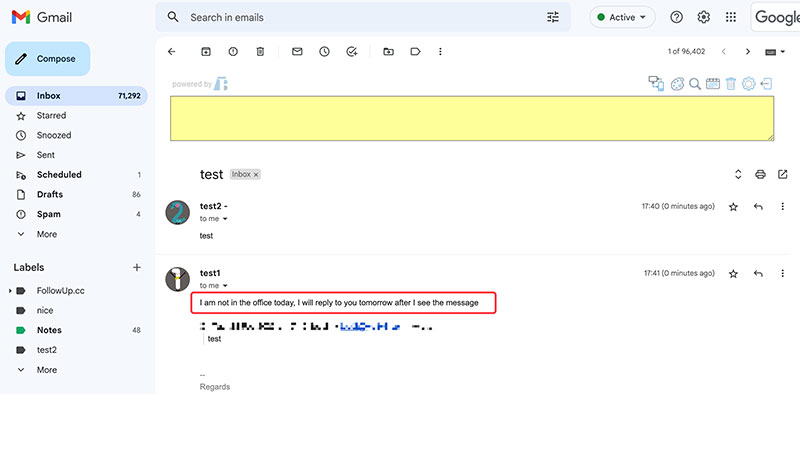 How to create an auto-reply email in Gmail?

1. Go to settings. Look for a section labeled 'Vacation responder on'.

2. Set the start and end dates for your vacation, if applicable. Write the content of your auto-reply in the designated text box. Make sure to include any necessary contact information or instructions for urgent matters. Save your changes and exit the settings menu.
3. From this point on, any new emails that you receive during your vacation will automatically receive the configured reply. This can be a useful tool to let people know that you are unavailable and to provide them with alternative contact options. Just remember to turn off the vacation responder when you return to ensure that you receive all of your emails as normal.

How to set up a vacation responder on Gmail on iOS/Android?

1. Open the Gmail app.

2. Click on the three horizontal lines icon in the top left of the screen. Scroll down and tap Settings.

3. Click on your email address, and then on the next screen tap Vacation responder.

4. Tap the slider to turn on the vacation responder.
5. Set the start and end dates, edit the subject line and message.

6. If you only want your contacts to receive your vacation responder, tap the slider next to Only send to my contacts.

7. When finished, click Save."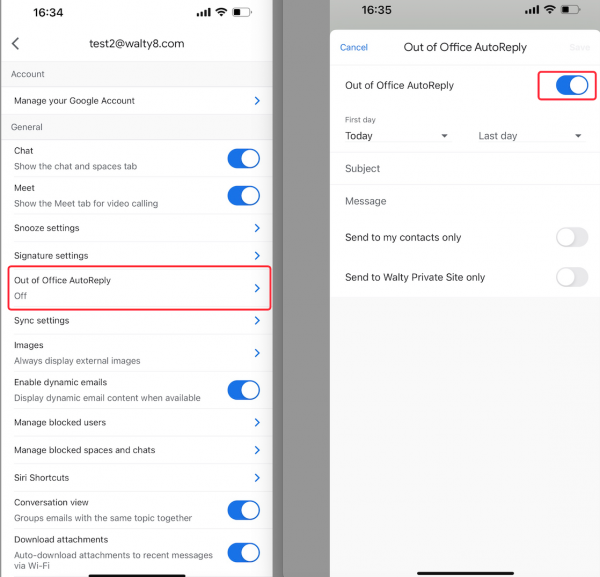 What content should be included in an out-of-office email?

1. Reason for your absence, your contact information, and other relevant details.

2. Specify your departure and return time so that colleagues and clients know when they can reach you.

3. Emergency contact person: If you need an emergency contact person during your absence, you should specify their contact information in the email.

Your email should include all necessary information to ensure that your colleagues are aware of your absence time and contact information, and can find the necessary information to handle any potential issues.

What should be avoided in an out-of-office reply?

1. Excessive information: Automatic replies should briefly state your absence period and contact information, rather than providing excessive information or personal details.
2. Too technical or difficult language: Avoid using overly technical or difficult language to ensure that your colleagues can easily understand your message.
3. If you need to add an emergency contact, always seek their consent beforehand.
How to write a professional out-of-office auto-reply email.

1. How to write an auto-reply email for customers?

Example:

Subject: Out of Office Auto-Reply

[Your Greeting],

Thank you for your email. I regret to inform you that I will be out of the office from March 5th to March 10th (Date of Return) and will not be able to reply to your email promptly.
If you have any urgent matters to attend to, please call my office phone at +1-555-1234 (your cell phone number).
I will process all emails and respond to them as soon as possible on March 11th. Thank you for your understanding and patience.

Best regards,

[Your Name].
2. How to write an auto-reply email for internal colleagues?

[Your Greeting]

Thank you for your email. I am currently out of the office due to [business trip/sick leave/vacation/etc.] and may not be able to respond to your message promptly.
I will do my best to reply to your email as soon as possible, but there may be a delay. If you have any urgent matters, please contact my designated representative [proxy's name and contact information].
In the meantime, if you have any other needs or questions, please reach out to our department's [supervisor/other colleague's name and contact information], who will do their best to assist you.
Thank you for your understanding and support. I look forward to connecting with you again soon.
---
Demo Video (Set up an automatic out-of-office or vacation reply in Gmail)